BunnyLuv Rabbit Resource Center
a chapter of the House Rabbit Society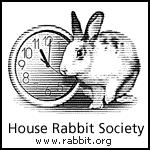 BunnyLuv Rabbit Resource Center is a non-profit, 501(c)(3), no-kill animal welfare organization. We offer education, adoption, care and supplies for domestic rabbits and the humans who love them. Since our establishment in 1996, BunnyLuv Rabbit Resource Center has helped thousands of rabbits and humans live together.​
​
We are here to help people create and maintain a meaningful relationship with their domestic companion rabbits and to help keep their rabbits happy and healthy for a long life and mutual enjoyment. We do this by providing information free of charge, helping to reduce rabbit overpopulation and abandonment in Southern California, and providing a safe haven for neglected rabbits as they await adoption.
In November 2015, we became a Los Angeles chapter of the House Rabbit Society, an international rabbit advocacy organization based in Richmond, CA.
The House Rabbit Society believes that ALL rabbits are valuable as individuals, regardless of breed purity, temperament, state of health, or relationship to humans. The welfare of all rabbits is our primary consideration.
In line with our mission, we are against the exploitation of rabbits.
Except for unique situations, in which wild animals are being nursed or rehabilitated, it is in the best interest of wild rabbits that human intervention be held to a minimum.
Domestic rabbits are not the product of natural selection, but rather of human interference by means of breeding programs, and the product is a human-dependent animal who needs protection. It is therefore the humans responsibility that these animals be cared for in a manner appropriate to their needs.
It is in the best interest of domestic rabbits to be neutered/spayed, to live inside your house where supervision and protection are provided, and to be treated for illnesses by veterinarians.
Domestic rabbits are companion animals and should be afforded at least the same individual rights, level of care, and opportunity for longevity as commonly afforded to dogs and cats who live as human companions.
Rabbits are intelligent, social animals who require mental stimulation, toys, exercise, environmental activity, and social interaction (from, as appropriate, people, other rabbits, or other animals).
Become a BunnyLuv Member today and help support our work to help rabbits in our community.
Benefits for all levels include the following:
Discount on hay purchases

Subscription to our online newsletter
Different membership levels:
$25 per year

$60 per year (a one month sponsorship of a bunny of your choice)

$125 per year (a 3-month sponsorship of a bunny of your choice)

$425 per year (a 1-year sponsorship of a bunny of your choice)
Join the House Rabbit Society
Be part of an international community of rabbit-lovers.